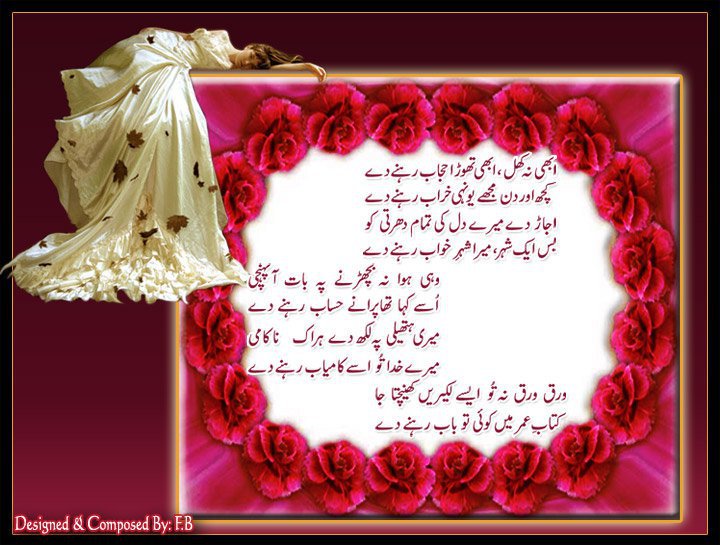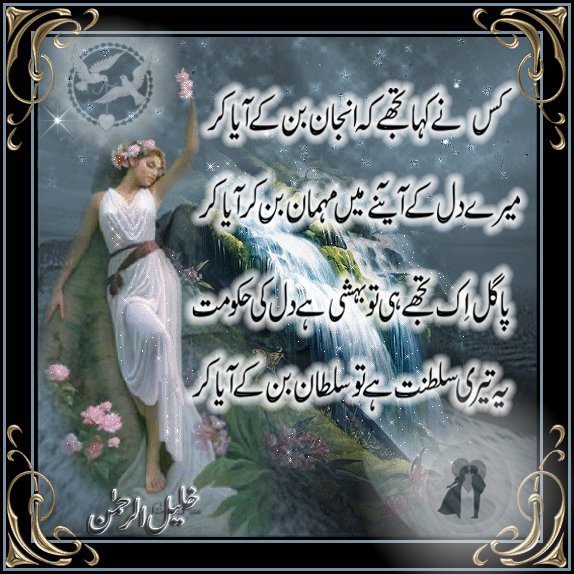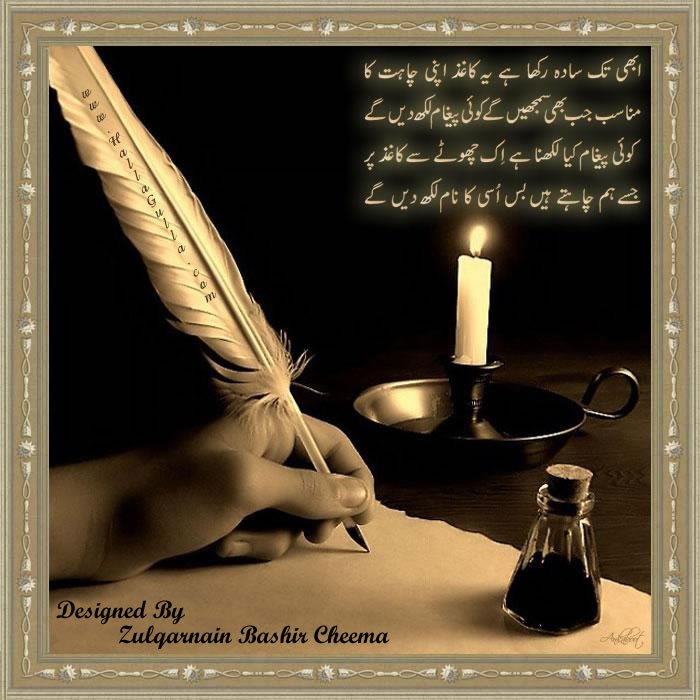 tumain jab kabhi milain fursatain mere dill se bojh utar do ,
main bohat dinno se udas hon ,muje koi shaam udhar do .

muje apne roop ki dhoop do ,ke chamak sakain mere khal o khad ,
muje apne rang main rang do ,mere sare zang utar do ,

kisi aur ko mere hall se ,naa garaz hai koi naa wasta.
main bikhar gaya hon samait lo ,main bigarrh gaya hon sanwar do.

meri wehshiton ko barrha diya hia ,judaion k azab ne ,
mere dill peh hath rakho zara , meri dharrkano ko qarar do.

tumain subbah kaisi lagi kaho, meri khohawishon k diyar ki,
jo bhali lagi to yahain raho , isse chahton se nikhar do .

wahan ghar main kon hia muntazir k ho fiker dair sawair ki,
barri mukhtasar si raat hia issi chandni main guzar do .

koi bat karni hia chand se kisi shakhsar ki owt main
muje raste main yahain kahin kisi kunj gull mian utar do ...





Ye Jo Berukhi H Baja Nahi,
Ye Adayen Kyon,Ye Ghuroor Kya?

Ye Guraiz Kis Liye Is Qadar,
Ye Khafa Khafa Se Huzoor Kya?

Tje Yad Krna Mzaaq Tha,
Tje Bhool Jana Azab H

Ye Saza H Jurm-e-Firaaq Ki,
Mere Hafzey Ka Qasoor Kya?

Tere Sath H Jo Teri Ana,
Mere Sath Mera Naseeb H

Mje Tj Se Kesi Shikayten,
Tje Khud Pe Itna Ghuror Kya?

Ye Tmhara Chehra Kitab H,
Isy Parh Raha Hun Main Warq Warq

Zara Bat Sada Likha Kro,
Ye Muhawron Ki Satoor Kya?
Meri Laghzishein Na Gina Karo
Meri Ghaltiyan Na Chuna Karo

Ye Qadam Qadam Ki Hudood Kya,
Mere sath sath chala karo,

Mein khulay mizaj ka shakhs hon
Mein taqallufat se mawara

Ye jo mehrbani ka lafz he
Isy tum na muj se kaha karo

Kahin tum na ho jao besakun
koi bad'dua na tumhe lage

Ye jo KHOYE KHOYE se log hain
Inhe dekh k na hansa karo

Ye dua hai Rab-e-Rahim se
Teri tazgi ko khizan na ho

Ye bahar tujhse jala kare
Sada muskurate raha karo!
"Bhool jaa"

ye zindagi ka ussool he,
jo bichar gaya use bhoool ja,
jo mila he use dil se laga k rakh,
jo nhi mila use bhool ja,
na wo dhoop tha na wo chandni,
na chiragh tha na wo roshni,
wo khayal tha koi khwab tha,
wo tha aina ussey bhool ja,
wo jo terey dil k kareeb tha,
wo jo terey dil k kareeb tha,
wo na jane kiska "NASEEEB" tha,
tujhey hans k usne bhula dia,
tu bhi muskura kar ussey "BHOOL JA".....
aik jesi hoti hain ye choriyan or larkiyan
hasti hain khanakti hain ye choriyan or larkiyan

nazuk intaha ki k ik zara c thes par
toot kar bikharti hain ye choriyan or larkiyan

zindagi ki dharkano ko ik ridam sa deeti hain
zeest ko sajati hain ye chooriyan or larkiyan

apne dukh ko apne andar rakh k bhol jati hain
bahir se chamkti hain ye chooriyan or larkiyan

aik jesii hoti hain ye ............ larkiyan
"Yun rah-e-wafa ki saleeb par, Tere do qadam uthane ka shukria"
"Bara pur khatar tha ye rasta, Tere laut jane ka shukria"

"Jo udaas hain tere hijr mein, Jinhein bojh lagti hay zindagi"
"Sar-e-bazm yun unko dekh kar, Tere muskurane ka shukria"

"Teri yaad kis kis bhais mein, Mery sher-o-nagme mein dhal gai"
"Ye kamal tha teri yaad ka, Mujhy yaad aaney ka shukria"

"Jo asool tha zamane bhar ka, Wo asool tu ne nibha diya"
"Yahi rasm thehri hay motabr, Mujhy bhool jane ka shukria"
farz karo tum chat par bethi dhup mein bal sukhati ho
farz karo yuon bethay bethay gehri soch mein kho jao

baal sukhana bhul kar sar guthno par rakh kar so jao
farz karo us neend mein tumnay dekha aisa sapna ho

bekal ho kar maan yeh chahaye kash yeh sapna apna ho
...farz karo afsana likhnay ki khuwaish maan mein pati ho

afsane kay hero ko shayad dewana likhti ho
afsane ki heroin bhi afsane hi likhti ho

farz karo alqab par ah kar haath tumhara rukh jaye
nazar tumhari dhak dhak kartey dil ki janib jhuk jaye

farz karo aik naam likho likh kar kato aur phir likho
farz karo woh naam tumhara apne is shayar ka ho

farz karo tum khat likhnay ki khuwaish maan mein pati ho
likhnay se pehley khat par khushbo khub lagati ho

farz karo haan farz karo

farz karo hum dono ka dil bas aik saath dharakta ho
Farz karo yah sab baatain tumhian farz na kerna padhti houn....!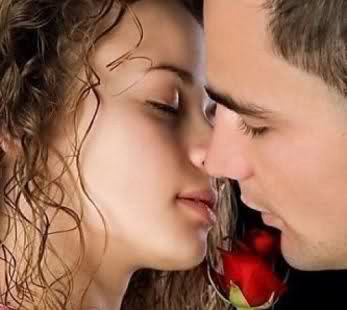 muje dil apna de kar ajj mehraban bana lo

mere dil main utar kar muje jan bana lo

tum kon ho ? kis k ho ? ye koi nehain janta

muje apna bana kar aj apni pehchan bana lo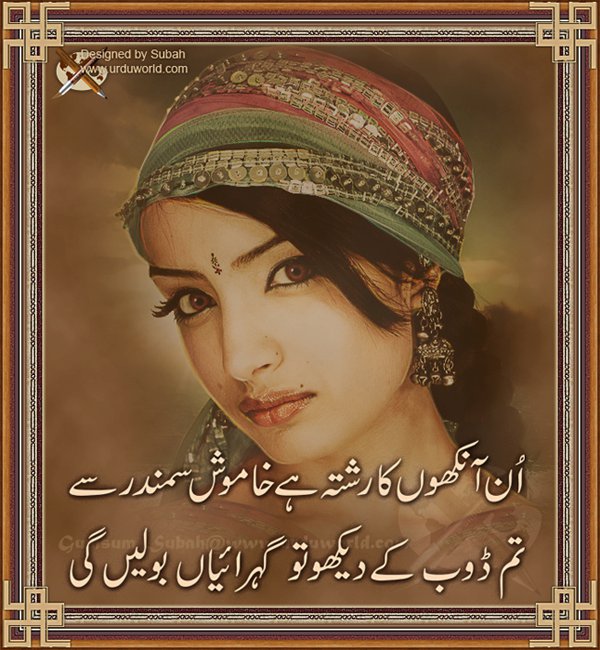 Tumhary bin me jee loon gi,
mera tum se ye wada hai,
Zeher-e-judai pee loon gi,
mera tum se ye wada hai,
mager ik shert he meri Btao !
...puri karo gy kia?
mein jab b tanha ho jaon,
tum apni yad bhejo gy,
.........jo mujh ko hosla dy gi,
.........mere ghum mein wo roye gi,
.........mere ansu wo pee ly gi,
tum apni yad se kehna,
Mujhe na chor kar jaein,
Mera sahara ban jaein,
or ab bus akhri ik baat......
TUMHARY BIN ye jeevan bohat veeran lagta hai,
YE wada nibhana b bohat dushwar lagta hai,,,,,,!!!
Koi Chupke Chupke kehta hai...

Koi geet likho meri ankhon per...

Koi sher kaho meri baton per...

In khushbo jese lafzon per...

Chup Chap mein sunta rehta hoo...

Phir us ki jheel si ankhon per..

Eik taza ghazal kehdeta hoo,,,

Or us k phool si baton per,,

Eik geet naya likh deta hoo

Yeh geet ghazal yeh sher mery,,

Sub uske husun k sur to hain,,

Sub uske roop ka darshan hain

Sub uski ankh ka kajal hain..
.





Apni Khamosh Zindagi Mein Bolana Mujh Ko !!
Apne Haseen Khuwab Ki Tasver Banana Mujh Ko !!

Mein Jo Puchoon Tumhara Haal_e_Dil !!
Tu Apni Her Dharkan Ki Awaz Sunana Mujh Ko !!

Mein jo Kabhi Rooth Jaon Tum Se Agar !!
Tu Bohut Piyar Se Manana Mujh Ko !!

Jo Kabhi Ho Dil Mein Hasrat Tumhari Koi !!
Be Jhijak Apni Her Hasrat Batana Mujh Ko !!

Jo Ho Jao Zindagi Mein Tanha Kisi Pal !!
Apni Piyar Bhari Awaz Se Bolana Mujh Ko
Gheron Se Bhi Haath Milaya Karo
Dil Un KA Bhi Tum BehLaya Karo

Na Dhoop Ka Kahin Nishan Rahe
Is Tarha Meri Zaat Pe Saaya Karo

Na Ho Koi Aahhat Tere Aane Ki
Is Tarha Mere Kooche Mein Aaya Karo

Na Hosh Rahe Zara Bhi Mujh Ko
Yun Mere Zehan Pe Tum Chaaya Karo

Jahan Karu Nazar Khamoshi Paun
Yun Mere Saamne Tum Gungunaya Karo

Sirf Saadgi Hi Tum Par Jajti Hai
Yunhi Apne Aap Ko Tum Saajaya Karo

Saanwle Chehre Pe Neeli Si Aakhen
Na Kajal Tum In Mein Lagaya Karo

Chaand Bhi Dekh Kar Sharma Jata Hai
Yun Na Zulfain Tum Phelaya Karo.
hamain barbad kar dala teri ankhaon ki masti ne

hazaroon sal g lete jo tum se pyar na karte
suno logo
suno logo meri ankhain khareedo gay

bohat majbor halat main muje nilam karni hain

koi muj se naqad lay le
main thoray dam lay lon ga

jo pehli boli day de bas usi k nam kar dun ga
muje bazar walay keh rehe hain kam aqal tajir

aray sunsan logo

main nehain hun hirs ka kha,han
nafa nuksan ki shatranj nehan main khelne aaya

koi muj ko kehe na manchala sa be hunar tajir
bata paon tuje kese or kis tashweesh main rakhon


suno logo,,,

bari mehbobtar hain muj ko meri neem tar ankhain
magar ab bechata hun k ......!

muje ik khawab ka tawan bharna hai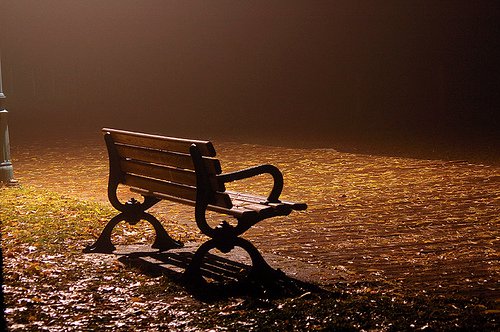 kitni ulaj gayi hai judai main zindagi
wo shaksh jafa kar k ehsan kar gya

main jis ko bat bat pe kehta tha apni jan
dekho wohi shaksh muje be jan kar gya

pehle wo meri zat ki tameer main raha
phir muj ko apne hat se masmar kar gya

wo aa mila to faslay kattatay chalay gaye
bichra to raste mere dushwar kar gya

bichra kuch is ada se k rut hi badal gyi malik
ik shaksh saray shehar ko weraan kar gya





/
/
/






bohat mehdod sa ik khalka ay ehbab hai apna

fakat tanhaiyan ruswaiyan nadaniyan or main
Muhabaton main har aik lamha wasal hoga, ye tay hua tha
Bichar kay bhi aik dusray ka khayal hoga, ye tay hua tha

wohi hua na, badalte mosam main tumne hamko bhula dia hai
koi bhi rutt ho, na chahaton ka zawal hoga, ye tay hua tha

ye kya k sansain ukhar gayi hain safar k aghaaz se hi yaaro
koi bhi thak kar na raste main nidhaal hoga, ye tay hua tha

Juda huay hain to kia hua phir, yehi to dastoor e zindagi hai
judaiyon main na qurbaton ka malaal hoga, ye tay hua tha





Zara Sa Dhiyan Rakh Lena Meri Pehli Muhabbat Hai,
Wafa Ka Man Rakh Lena Meri Pehli Muhabbat Hai,

Kahan Is Umer Mein Hum Bhais Badlein Gay Faqeeron Ka,
Milan Aasaan Rakh Lena Meri Pehli Muhabbat Hai,

Judayi K Dino Mein Log Chehray Bhool Jatay hain,
Meri Pechaan Rakh Lena Meri Pehli Muhabbat Hai,

Judayi Toh Main Seh Longa Magar Tum Phir Se Milnay Ka,
Koi Imkaan Rakh Lena Meri Pehli Muhabbat Hai,

Agar Shaya Karao Apna Pehla Sheri Majmua,
Toh Yeh Unwaan Rakh Lena Meri Pehli Muhabbat Hai.....!
Kya karoun, kya na karoun? Kuch tou keh aey Chaaragar......
Rutain yeh hijr ki mujh se guzaari ab nahin jaati…...
.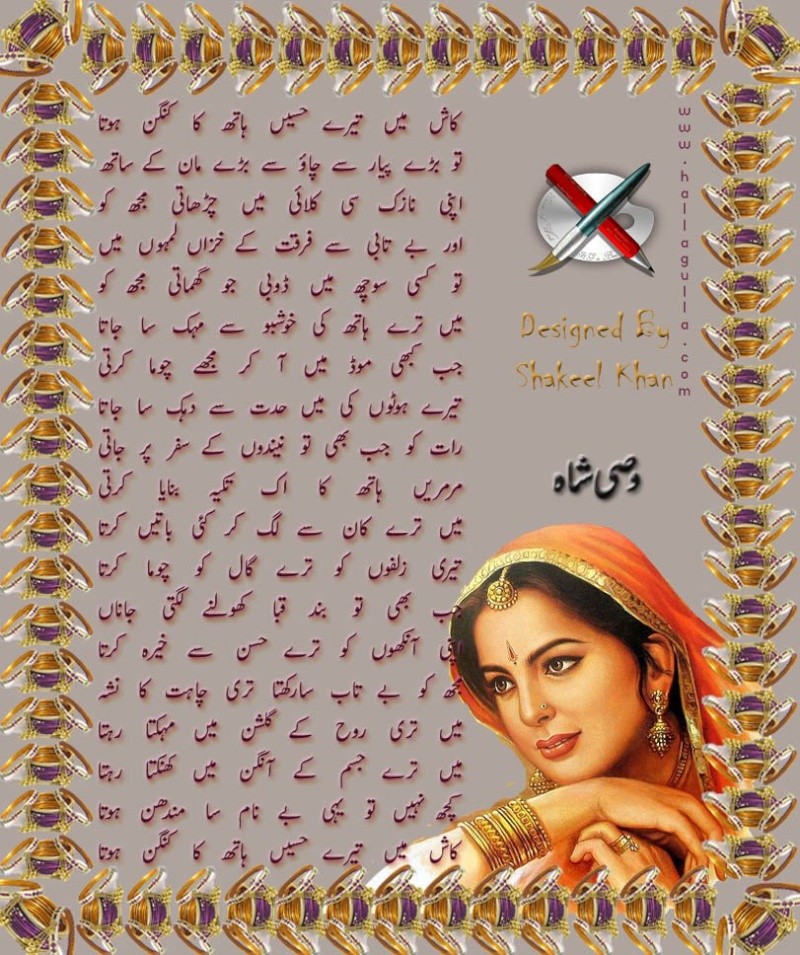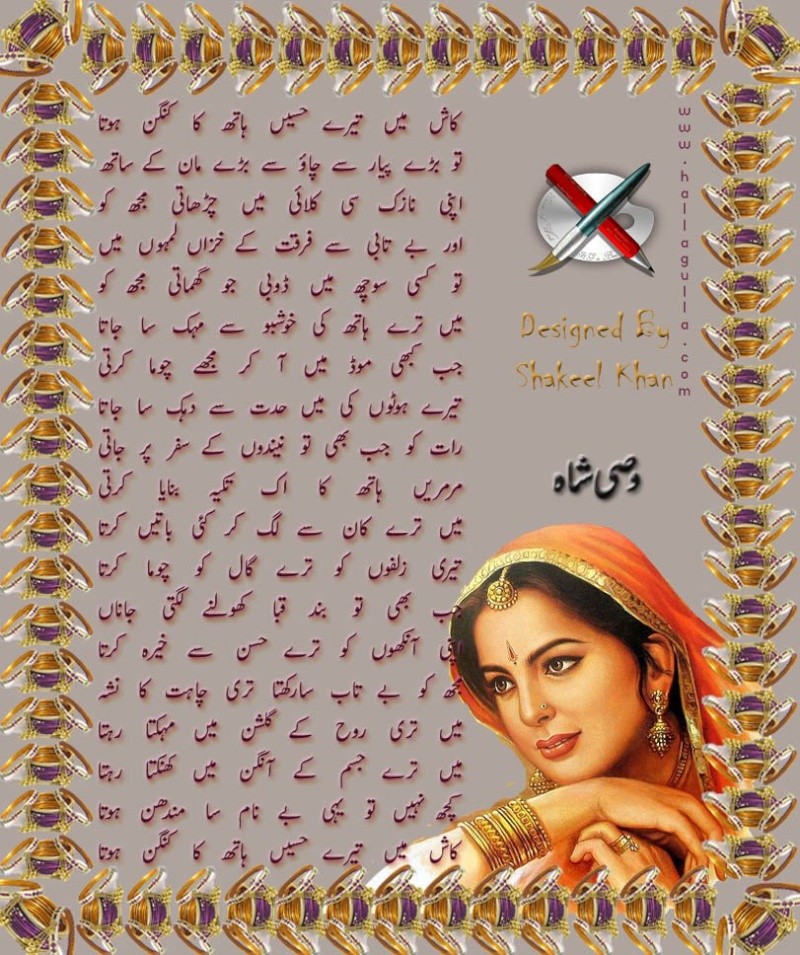 [/url]
us mor se shuru karain aa phir the zindagi

hr shay jahan haseen thi or ham tum se ajnabii
hai jhurm muhabat ghar Zahid wo b to sharek e jhurm raha

kyon log muje badnam karain kyon yak tarfa ho ruswaii
gilay shikwon se chahat par koi farq to nehain parta
magar
jahan shikway nehain hotay whan chahat nehain hoti
sunooo ??????

tum bohat azam walay ho

bala ka zabat rakhte ho

tumain kuch b nehain hoga

magar dekhoo !!!!!!!!!!!

jisay tum chor jate ho

isay to thek se shaid

bicharna b nehain aata ,,,,,,,,,,,
mout k pas ja k dekhna hai
hamain b dil laga k dekhna hai

chand ko log door se dekhte hain
hamain ne ghar bula k dekhna hai

ishq k dam poch lo ham se
hamain ne ghar luta k dekhna hai

pyar to bheek main nehain milta
hamain ne daman phela k dekhna hai
kon karta hai wafaon k taqazay tum se

ham to ik jhooti tasalii k qail hain bas
ajj kuch kami c hai tere bagair
na rang na roshni hai tere bagair

waqat apni raftar se chal raha hai
bas dharkan thami c hai tere bagair

na barish hai na duaaan
phir b dil main tapish c hai tere bagair

bohat roka badal ko barasne se
phir b ankhon main nami c hai tere bagair
Tu iss qadar mujhe apne qareeb lagta hai
Tujhe alag se jo sochuun,ajeeb lagta hai

Jise na husn se matlab hai,na ishq se sarokaar
Wo shaksh mujhko bahut badnaseeb lagta hai

Huduud-e-zaat se bahar nikal ke dekh zara
Na koi ghair,na koi raqeeb lagta hai

Ye dosti,ye maraasin,ye chahtein,ye khuluus
Kabhi kabhi ye sab kuch ajeeb lagta hai

Ufaq pe duur chamkta hua koi tara
Mujhe charagh-e-dayare-habeeb lagta hai

Na_jaane kab koi toofan aayega yaaron
Buland mauj se sahil qareeb lagta hai
ban jaon agr tujh sa tumhain kesa lage ga
har pal main rahon tujh se khafa kesa lage ga

parte ho mujhy tum jo namazon ki tarha se
ho jaon agr tujh se qaza kesa lage ga

tum piyar main jo khud ko mitane pe ho razi
ban jaye agr piyar saza kesa lage ga

had se bi ziyada ho yaqeen tum ko bi kesi par
woh shaks hi de jay dagha kesa lage ga

tum or kisi mehfil ka diya ban ke jalo par
tanhai mile tum ko sila kesa lagy ga
udasiyon se hai wabasta zindgi meri

Khuda khawa hai tumain phir b pyar karte hain

tumaray bad agr kuch karte hain ham

teri umeed tera inatzar karte hain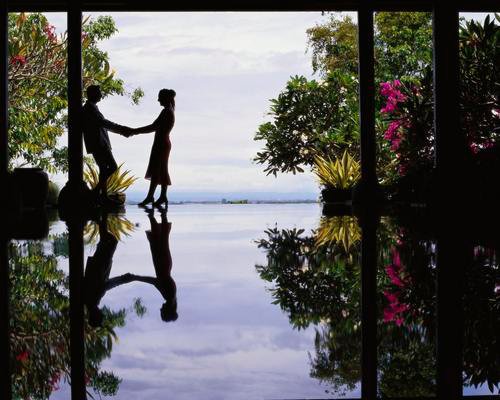 Raah me mushkilein haail hai chalo pyaar karein
Pyaar karna barha mushkil hai chalo pyaar karein


Aql to ahle siyasat ke yahan girvi hai
Apna hamdard to ye dil hai chalo pyaar karein


Mazhabon jatiyon rangon me ulajhna kyon kar
Pyar insan ki manzil hai chalo pyaar karein


Chashme ulfat se zara dekhiye sab apne hein
Har taraf pyar ki mehfil hai chalo pyaar karein


Aao tufan se nafrat ke nikal kar aao
Samne pyar ka sahil hai chalo pyaar karein


Geet ulfat ke hein "Khamosh"to gazal ishq ki hai
Ab sukhan pyaar ko maail hai chalo pyaar karein
tapti hui raahon pe phiraaya mujhe din bhar
yoon tere tasawur ne sataya mujhe din bhar

dil main wo kasak chorr gaya subha ka taara
ik lamha bhi aaraam na aaya mujhe din bhar

weeraan bayabaan main,kabhi ujrray gharon main
phirta raha lay kar tera saaya mujhe din bhar

deti rahi chaandni shab bhar mujhe aawaaz
sooraj ne bhi reh reh k bulaaya mujhe din bhar

har simt bhare sheher thay kiya jaaniye phir bhi
tanhaaii k ehsaas ne khaaya mujhe din bhar

lehje main ghani chhaaon k,paton ki zubaan main
payrroon ne tera haal sunaaya mujhe din bhar

ik pal main hi batlaa gaiin dam torrti kirnen
wo raaz jo aey "Sham" na paaya mujhe din bhar
Badnaam mere pyaar kaa afsaanaa huaa hai
Dewane bhi kahte hain ki dewana huaa hai

Rishtaa thaa tabhii to kisii bedard ne toraa
Apnaa thaa tabhii to koii begaanaa huaa hai

Baadal kii tarah aa ke baras jaaiye ik din
Dil aap ke hote hue viiraana huaa hai

Bajte hain khayaalon mein terii yaad ke ghungruu
Kuchh din se meraa ghar bhii parikhaanaa huaa hai

Mausam ne banaayaa hai nigaahon ko sharaabii
Jis phuul ko dekhuun vahii paimaanaa huaa hai
mere mehboob teri shokh nirali ankhain
kabi dekhi na suni aisi misali ankhain

haye ye nikhray khadu hal ye bharpoor badan
mastiye ehad jawani se ajab choor badan

us p ye gazab k dil lootne wali ankhain
mere mehboob teri shokh nirali ankhain

mere mehboob tuje Qudrat ne banaya dhab se
maine manga tha duaon main tuj hi sa Rab se

tuj ko dekha to duniya se hata li ankhain
mere mehboob terii shokh nirali ankhain

mere mehboob tere sath hai jeena mera
sans ruk jaye gi phat jaye ga seena mera

meri ankhon se ghar tu ne hata li ankhain
mere mehboob teri shokh nirali ankhain

koi shair teri tareef main kya likhay ga ?
mukhray ko chand zulfoon ko ghata likhay ga

rang o noor ki hain koos e qaza likhay ga
jo b likhay ga kahan tere siwa likhay ga

hosh kho bethay ga ghar tuj se mila li ankhain
mere mehboob teri shokh nirali ankhai





Apni yadien apni batien le kr jana bhool gya tha.

Jane wala jaldi main tha mil kr jana bhool gya tha.

Mur mur kr yun dekh raha tha jate jate,

Jese us ne kehna tha kuch jo wo kehna bhool gya tha.

Wqt-e-rukhst meri ankhin ponch raha tha hathon se,

Usko gham tha itna zyada khud wo rona bhool gya tha.
Zindagi Tujse Her Ek Sans Pey Samjhota Karon
Shauq Jeeney Ka Hay Mujko Magar Itna Tu Nehi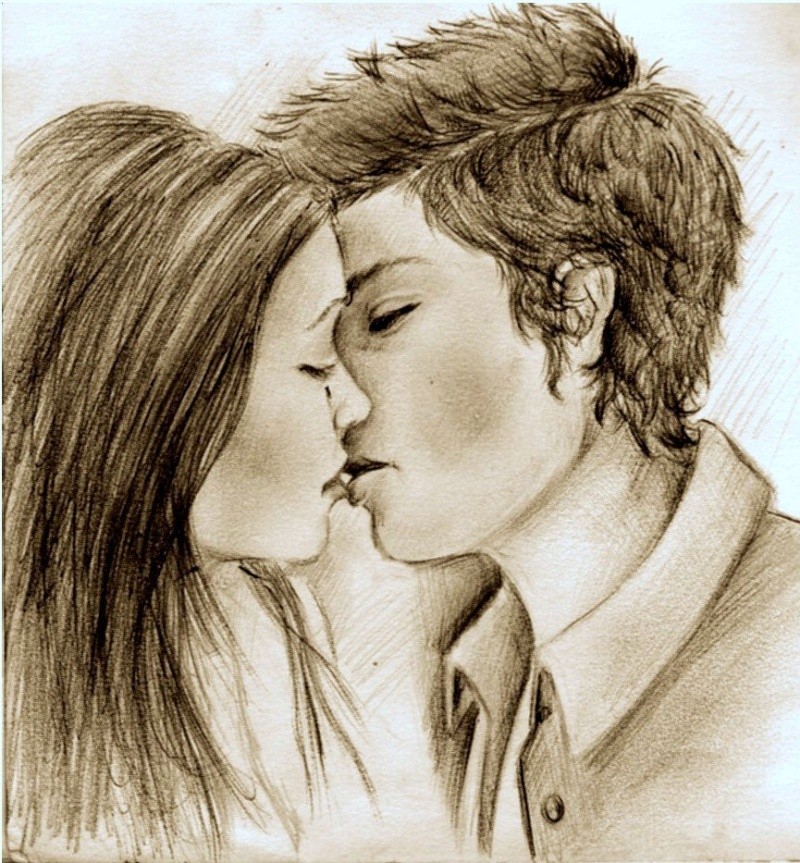 main aisi muhabt karta hun
main aisi mohabbat karta hoon
tum kaisi mohabbat karti ho
tum jahan peh bayth k jati ho
main waheen pe betha rehta hoon
us cheez ko choota rehta hoon
main aisi mohabbt karta hoon

tum jis se huns k milti ho
main us ko dost banata hoon
tum jis rustay par chalti ho
main us say aata jata hoon
main aisi mohabbat karta hoon
tum kaisi mohabbat karti ho

tum jin ko daykhti rehti ho
wo khuwab?.sarhanay rakhta hoon
tum say milnay julnay k
kitnay hi bahanay rakhta hoon
main aisi mohabbat karta hoon
tum kaisi mohabbat karti ho

tum jahan bhi bayth k jati ho
jis cheez ko hath lagati ho
main waheen peh baytha rehta hoon
us jaga ko choota rehta hoon
main aisi mohabbat karta hoon
tum kaisi mohabbat karti ho

kuch khuwab saja kar aankhoon main
palkon say moti chunta hoon
koi lums agar choo jaa a to
main pehroon us ko sochta hoon
main?aisi mohabbat karta hoon
tum kaisi mohabbat karti ho

jin logon main tum rehti ho
tum jin say batain karti ho
tum jin say huns k milti ho
jo tum ko achay lagtay hoon
wohi mujh ko achy lagtay hain
main aisi mohabbat karta hoon
tum kaisi mohabbat karti ho

jis bagh main subh ko jati ho
jis sabzay par tum chalti ho
jo shakh tumhain choo jati hay
jo khushboo?tum ko bhati hay
wo os tumharay chehray par
jo qatra qatra girti hai
wo titli chor k phoolon ko
jo tum say milnay aati hai
jo tum ko choonay aati hay
un sab k nazuk jazbon main
meray dil ki dharkan basti hai
miri rooh bhi shamil rehti hai
tum paas raho ya door raho
nazron main samai rehti ho
main tum ko takta rehta hoon
main tum ko sochta rehta hoon
main aisi mohabbat karta hoon
tum kaisi mohabbat karti ho

her moqay par her manzar main
main sath tumharay rehta hoon
main chashm-e-tasavvur main aksar
bus tum ko dekhta rehta hoon
bus tum ko sochta rehta hoon
main aisi mohabbat karta hoon
tum kaisi mohabbat karti ho ....
Kamal kartay ho

har roz bhula dete ho kamal karte ho
hanste ko rula dete ho kamal karte ho
nehain hai muhabat to saf keh do
Q umeed barha dete ho kamal karte ho
ham tumain bholne lagte hain jb b
aa k pyar jata dete ho kamal kartay ho
jante ho k aik hi diya hai mere ghar
phir b hawa dete ho kamal kartay ho
bhoolne ka jo muje har roz kehte ho
yoon yad dila jatay ho kamal kartay ho
khud hi kehtay ho k nasha haram hai
or jham ankhon se pila dete ho kamal karte





ay chand ki kirno

ay chand ki kirno jaoo na
tum us ko choo kar aao na
wo kab kab kya kya karta hai ?
wo jagta hai ya sota hai ?
wo kis se batain karta hai ?
wo sham ko kesa lagta hai ?
wo rat ko kesa dikhta hai ?
wo soye kesa lagta hai ?
tum chupke chupke jao na
tum us ko cho kar aao na
hm us k bina adoray hain
or jina mushkil lagta hai
tum kan main us k keh dena
koi yad bohat use karta hai
ay chand ki kirno jaoo na
bara dushwar hota hai

zara sa faisla karna

k jeewan ki kahanii ko

beyan E be zubani ko

kahan se yad rakhna hai

kahan se bhol jana hai

isay kitna batana hai

isay kitna chupana hai

kahan hans hans k rona hai

kahan roo roo k hansana hai

kahan aawaz deni hai

kahan khamosh rehna hai

kahan rasta badalna hai

kahan se lot jana hai

bara dushwar hota hai

zara sa faisla karna
mere soye howe arman jaga mat dena
khawab main b agr aao to jaga mat dena

shidat E gham se guzar jaon na kehi jan se apni
dil hai pehle se dukhi or dukha mat dena

is se behtar hai anderon ki ghutan main rehna
roshni k liye ghar apna jala mat dena

saint k rakh lo ye ankhon main sadaf ki manind
suchay moti hain ankhon se gira mat dena

khud gharz log b hian rah E talab main Kahmosh
apni manzil ka zamane ko pata mat dena
aao phir lipat jain

ik dosray main dhal jain

tumaray door hone

hamain takleef hoti hai

qareeb aao k ajj badan behak jain

youn hichkachane se jan ab kuch nehain ho ga

hamain itna karo pyar k ham bikhar jain

mat sirko is haseen rat ki chadar se

ham main samaoo ajj itna k had se guzar jain

is ada se honto ko choo lo ajj k

kheench lo hamari sansain or ham mar jain
Khamosh. first of all thank you very much itna sab karny ka. humary forum par itni lambi posting karny ka shukaria...kahaan sy ly k aaye ho itni bari collection???????? kis kis poetry ki tareef karooo......really amazing. har shair har shayeri har nazam har cheez bohat pyari hai. mujy iss posting mein sab sy end wali poetry bohat khooob lagi. baaqi tamaam b bohat hi daad k qabl hain zaberdast........

anaarkali2011

JUNIOR MEMBER





Posts

: 81


Join date

: 2011-03-05


Age

: 37


Location

: Faisalabad-Pakistan



thanxxxxxxxxxxxxxxxxxxxxxxxxxxxxx
bas ap dost muje isi tara hosla dete raho
rehi bat itni lambi post ki to dost agar choti choti karon to foum par posts ka ambar lag jaye ga islye
main chata hun k meri post baki dosto se alag ho meri post main kuch aisa ho k users meri post ko
bar bar dekhne par majbor ho jain i dont know k main kitna kamyab ho sakon ga ya howa hun
but its my style
thanx alot once again or liking
Similar topics
---
Permissions in this forum:
You
cannot
reply to topics in this forum